I guess at the beginning of my time spent in Colorado. So much has happened in the last three weeks that I am still trying to digest everything. This was at the beginning of October. I am once again in rewind mode.
OK, I drove down from Wyoming into Colorado on highway 125. I had spent the night at a campground in the woods. According to my Street & Trips map there was a shorter road back to the main road instead of the eleven mile dirt road into the woods. Well, let me tell you not every map is correct. The shorter way out turned into an eighteen mile, one and a half hour nightmarish drive. I looked at it as an adventure and after I managed to maneuver the truck with the camper over badly washed out dirt roads and up short steep inclines I figured I can drive that truck anywhere. All that bouncing up and down caused a minor earthquake inside the camper. As they say on the airplane "Open overhead compartments with care, items might have shifted."
The last stretch out of Wyoming was supposed to be just a short drive; that is if you are not talking on your cell phone (hands free) and miss your exit. Forty additional miles do not sound like a lot, but that's a good hour of extra driving.
The scenery changed immediately once I crossed the border into Colorado. Aspens in their golden fall foliage and the big mountains just as you would expect from Colorado. I had planned on camping in the forests near Walden. When I arrived in Walden (pop. < 1,000) I wasn't sure where to find the camp spot. [caption id="attachment_1351" align="alignright" width="300" caption="My spot at the Walden reservoir"]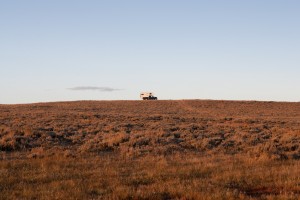 [/caption]
I asked a woman walking by and she said the place I was looking for was another twenty two miles away. I was in no condition to drive another five miles let alone twenty two. I tend to fade by three or four o'clock in the afternoon (driving a five ton vehicle is work). Fortunately, the woman had a terrific suggestion. I could just camp right by the reservoir, no charge, people do it all the time. Wow, sounds great, I had enough water in my tank and thanks to my solar panel my batteries stay charged. Lucky me, view onto the reservoir, a lone camper in the distance, mountain ranges in the east and west and a setting sun – life is good. It was too bad that the nearby refinery was humming all night, small price to pay.
The next morning I found out to my amazement that the town has a free dump and fresh water station for RVs! I emptied my full gray and black water tanks and filled up with enough fresh water to last me through my visit at my friend's place in Denver.
The drive to Denver was sprinkled with mountain passes, 10,000' to 12,000'. I just take it in strides, the drive up is slow, but I enjoy the drive down when I just coast down the mountain. Only too bad when there are slow pokes in front of you who constantly have to hit the brakes at every little curve, very annoying.
The Aspens were not at their peak fall colors yet, but it made for a nice patchwork of colors among the pine trees.
I was looking forward to getting to Denver. For one, my friend Zoë Lewis (check out her website www.zoelewis.com) had a concert that night. Her performances are a ton of fun. I always leave her concerts a different person. She is a very talented singer songwriter, musician and storyteller. Try to catch one of her performances near your hometown. The concert was great, and Zoë was pleasantly surprised to see me. A great evening all around.
The other reason I was looking forward to visiting Denver was that I would get to spend some time with my old high school friend Alex whom I hadn't seen in twelve years. And I would get to meet her 19 months old son Daniel and her partner Skeeter. It was great, lots of catching up and thanks to summer like temperatures dinners out in the backyard.
I spent four days in Denver, not doing much of anything, it was wonderful. I needed a little break from driving and from being on the go all the time. I hate to admit it, but I slept in the house, I abandoned my camper :(.
Best of all, (next to spending time with my friends) I was able to stock-up on my black bread. Thanks to Mike at Rubschlager who told me where I could get it and thanks to Jeremy at Sunflower Market who put in a special order for 12 lbs; I am set for the next couple of months.
I had not planned much of anything for Colorado other than the Denver visit. But since I fly by the seat of my pants I decided to pay Mesa Verde in southwestern corner of Colorado a visit.
I don't like to drive down the same road twice, and since I took the loneliest highway in America, aka highway 50, to drive from the West Coast back to New York a few years back I opted to take highway 160 instead to get to Mesa Verde. First, I had to get to the southern most east – west bound highway and boy was I in for a surprise.
I took hwy 285 south from Denver, nothing out of the extraordinary here, steep mountain passes, Aspens in fall colors, and the occasional mountain creek. My first night spot was a campground in the woods near Fairplay. Nice and quiet, as usual the only way to get to it was via dirt road, not too bad, but my cabinets once again were rearranged.
After driving too many miles a day to get to Denver I wanted to take it a bit slower. I spent a couple of hours walking around Salida, a small town with a nice historic downtown and a handful of art galleries. No, I did not go in any of them. I did however, have lunch at one of the restaurants; too bad that the tuna steak was well done and almost as dry as a bone. After a little grocery shopping, they actually had a full fletched supermarket with a good produce section, I headed south and that's when it happened.
I crossed over the Poncha Pass (9,000') and the world opened up in front of me. Holly cow. Open space as far as the eye could see. To the left the Sangre De Cristo mountain range with peaks as high as 14,000', to the right the Gunnison National Forest with more gentile mountains. I had landed in the San Luis Valley. The mountains on each side were at least 20 to 30 miles from the highway.
I had planned on driving a little further south to a campground I had contacted earlier that day. If I remember correctly, they didn't have full hook-ups (water, electric and sewer) and they were located right next to the main highway. So it was pure luck and good fortune that I passed a sign for another campground with full hook-ups just a mile down the road. I decided to pull in at the San Luis Valley campground in Villa Grove, good luck finding that on the map, and made it my hub for the next couple of days. What a great decision. Originally I only wanted to pass through, but once I saw this amazing valley, I told myself it would be a shame not to explore the area more.
Before I had a chance to explore I met John, a half Choctaw Indian, half Irish cowboy. John is the grounds keeper for campground and very interesting. He told me how he still lives as much as possible off the surrounding land. He pointed to plants around us and told me which ones are edible and which he uses for medicinal purposes. The golden grass I so loved in California is also referred to as Indian ricegrass. John gathers it during the summer months and uses it to make flour. In his cowboy days he used to train horses, herded sheep up in the mountains for months on end. A very, very interesting guy. He even had a part in the movie Butch Cassidy playing himself. He invited me to go looking for turquoise up in the mountains.
How neat is that? How often do you have the opportunity to do something like that? We even found quite a few pieces, not very large, but it was not all about size, but more about the search. We also went to the Witches Canyon, which stood in total contrast to the nearby valley with its abstract rock formations; I would have never found this place.
When I headed out on my own driving down highway 17, my jaw literally dropped (not figuratively, but literally) when I looked down a fifty mile long straight stretch of highway flanked only by sagebrush and the mountains in the distance. You have to understand this happened before I made it to Nevada where fifty mile straight roads are pretty common.
I wanted to visit the Great Sand Dunes National Park which was roughly 65 miles south from my camp spot. I almost didn't make it before dark. There was so much cool stuff to see and photograph along the way. First there was the UFO Watchtower and Garden, who could say no, then down a dirt road, never mind the huge solar panel farm which stretched for a mile along the road.
I was in photography heaven. By the time I arrived at the sand dunes I only had two hours before sunset and a long drive home.
Not much time to explore the dunes. A ranger at the visitor center suggested I take a drive along the outskirts of the dunes to get an idea of the expanse of the dunes. The drive took me through some pretty deep and soft sand. This road was reserved for vehicles with 4×4 drives and you needed it. The key was to stay in the tracks; otherwise it could get a little iffy. Fortunately, I managed not to get stuck. The nice thing in this park is you can climb the dunes wherever you want. You can even take a snowboard to ride the dunes.
When you hear sand dunes in Colorado don't just think of a couple of piles of sand. The park "features" the tallest dunes in North America and they cover an area of 30 square miles. The two tallest dunes are 650 ft. (198m) and 750 ft. (229m) tall.
I had to come back and climb those dunes and I did.
On my way back home a thunderstorm was brewing in the north and it made for a stunning sky. What a perfect way to end a day of adventure.
The next day I headed out to move a little closer towards Mesa Verde, but not before I climbed some sand dunes. I don't remember the last time I was huffing and puffing as much as I did climbing up those dunes. Between the 8,000' elevation and climbing on soft sand I had my work cut out for me. It took me a little over two hours for the 3 ½ mile round trip hike. I was famished by the time I got back to my truck. I was very glad that I was traveling with my camper and I could make some scrambled eggs before I continued my drive to South Fork, Colorado.